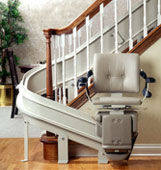 Stair Lifts
Stair lifts are special types of motorized mobility devices. These devices consist of a chair that runs on a track. The track is attached to a stair rail in order to help people easily reach all stories of their home. Contrary to popular belief, stair lifts do not necessitate any home structural changes in order to be incorporated into an existing staircase. There are several different purposes for using a stair lift. However, the majority of people utilize these devices in order to transport people who have mobility problems up and down stairs.


Uses for a Stair Lift


The most common use for stair lifts is to help people reach the multiple stories in their home. These devices are of great help to the disabled and elderly, preventing many accidents that result from climbing staircases. Stair lifts can also relieve the minds of the elder's caretaker. When a relative is unable to provide 24-hour care for the older family member, they can rest assured that the individual can get to where they need to go in the house. And when staircases become to difficult to climb, the lift is an inexpensive alternative to relocating the aging relative to a nursing home or one-story house.

In addition to carrying people, lifts can be use to transport luggage, groceries and bulky and heavy objects up and down staircases. Usually, stair lifts are powered by electricity; however, they also contain a backup battery in the even of a power outage. These lifts are designed to fit on either side of a staircase.


Configurations and Fits


The stair lifts available on today's market are made to fit virtually any kind of staircase configuration. This means people can have a lift no matter if their staircase is straight, curved or has a landing at mid-level. Curved and straight staircases are easy enough to fit. However, those with a mid-level landing may require a two lifts to put on each section of stairs. The lift itself is attached to the staircases with bolts; rail brackets are installed approximately 3-4 feet apart.


Storage and Other Features of Stair Lifts


Whenever the homeowner will not be using the lift for an extended period, the device can be folded and stored in order to save space. There are some typical features found on the lifts' chairs, such as swivel seat locks and seat belts. Many stair lifts also come equipped with an obstruction sensor the keeps the device from moving if there is anything in its direct path. The operating pad may also have a finger-pressure button that stops the lift from proceeding up or down the staircase if the user removes their finger from the control pad.


Maintenance and Warranties


Currently, stair lifts are made to stand up to many years of use without requiring a great deal of care and maintenance. The majority of lifts usually have a manufacturer's warranty that covers the device in case of a mechanical breakdown. Staircase lifts are extremely sturdy and most can hold a user with a maximum weight of 375 pounds.


↑ Top